"Kala Chashma"
— zaśpiewane przez Badshah , Neha Kakkar , Amar Arshi
"Kala Chashma" to utwór wykonywany w indyjski wydany w 27 lipiec 2016 na oficjalnym kanale wytwórni płytowej – "Zee Music Company". Odkryj ekskluzywne informacje o "Kala Chashma". Znajdź tekst piosenki Kala Chashma, tłumaczenia i informacje o utworach. Zarobki i wartość netto są gromadzone przez sponsorów i inne źródła zgodnie z informacjami znalezionymi w Internecie. Ile razy piosenka "Kala Chashma" pojawiła się na skompilowanych listach przebojów? "Kala Chashma" to dobrze znany teledysk, który zajmował miejsca na popularnych listach przebojów, takich jak Top 100 indie Songs, Top 40 indyjski Songs i nie tylko.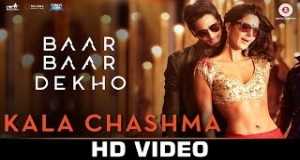 Kraj
indie
Dodany
Oryginalny tytuł utworu
Kala Chashma | Baar Baar Dekho | Sidharth Malhotra Katrina Kaif | Badshah Neha Kakkar Indeep Bakshi
Raport
[Nie związane z muzyką ] [Dodaj powiązanego wykonawcę] [Usuń połączonego wykonawcę] [Dodaj tekst] [Dodaj tłumaczenie tekstów]
Badshah, Neha Kakkar, Amar Arshi "Kala Chashma"

Unlimited Converts to MP3

costs $18 one-time purchase
"Kala Chashma" Fakty
"Kala Chashma" osiągnął 908.5M łączną liczbę wyświetleń i 3.2M polubień w YouTube.

Piosenka została zgłoszona w 27/07/2016 i spędziła 351 tygodnie na listach przebojów.
Oryginalna nazwa teledysku to "Kala Chashma".
"Kala Chashma" zostało opublikowane na Youtube pod adresem 27/07/2016 07:28:59.
)
"Kala Chashma" Tekst, kompozytorzy, wytwórnia płytowa
BadshahSongs
KatrinaSongs
#SleepySleepyAkhiyan


Jaw dropping dance by Katrina Kaif ! India's Biggest Song.


Download from iTunes :
Stream it on JioMusic : ; Wynk : ;| Saavn : ;| Gaana : ; | Google Play:
| Idea Music : ;| Amazon Music:
;| Hungama :

To set this song as your caller tune sms BBD1 to 57575

Come rain or shine put on your Kala Chashma to get ;Featuring the hottest new pairing in Bollywood - Sidharth Malhotra and Katrina Kaif from the upcoming film Baar Baar ;The song is originally composed by Prem Hardeep and recreated by Badshah, written by Amrik Singh and Kumaar and sung in the widely loved voices of Amar Arshi, Badshah & Neha Kakkar.

Baar Baar Dekho Releases in Cinemas on 9th September, 2016

Song Name – Kala Chashma
Movie – Baar Baar Dekho
Original Music Composed by – Prem Hardeep
Remixed by – Badshah
Singers – Amar Arshi, Badshah & Neha Kakkar
Rap – Badshah & Indeep Bakshi
Lyrics – Amrik Singh & Kumaar
Director – Nitya Mehra
Music Label - Zee Music Company

To set this song as your caller tune dial :

Airtel users dial : 5432115695294
Vodafone users dial : 5378245890
Idea users dial : 567898245890
Docomo users dial : 5432118245890

BSNL (South) (EAST) SMS BT 8245890 to 56700
BSNL (NORTH) (WEST) SMS BT 8245890 to 56700

Aircel : SMS DT 6177241 to 53000

Programming & Arrangements - Aditya Dev
Additional Programming - Sourav Roy & Shailesh Suvarna
Mix Assistant Engineers - Michael Edwin Pillai & Lucky
Song Mixed & Mastered by - Eric Pillai (Future Sound Of Bombay)
Vocals Recorded at YRF studios By - Shantanu Hudlikar, Abhishek Khandelwal & Manasi Tare
Special thanks to Anup Kumar, Dinesh Aulakh & Kamal Boparai

Music Supervisor - Azeem Dayani

Cast : Sidharth Malhotra and Katrina Kaif
Banner : EROS INTERNATIONAL presents in association with EXCEL ENTERTAINMENT and DHARMA PRODUCTIONS, an ARCLIGHT FILMS PRODUCTION
Director : Nitya Mehra

Lyrics:
Tere Naam Diyan Dhooma Pai Gayiyan, Tu Chandigarh Ton Aayi
Tenu Dekh Ke Haunke Bharde Ne Khade Chaunka Vich Sipahi
Thodi Te Kala Til
Thodi Te Kala Til Kudiye, Jyon Daag Hai Chan De Tukde Te,

Tenu Kala ;Kala
Tenu Kala Chashma Jachda Ae, Jachda Ae Gore Mukhde
Tenu Kala Chashma Jachda Ae, Jachda Ae Gore Mukhde Te.

Sadko Pe Chale Jab Ladko Ke Dilon Ke Mein Tu
Aag Lagadey Baby FIRE
Nakli Sa Nakhrey Tu Kare Jab Dekhe Hume
Jhoothi LIAR
Kala Kala Chashma Jo Jaata Hai Tere Mukhde Pe
Jaisa Kaala Til Jachta Hai Tere Chin Pe
Apni Adaon Se Zyaada Nahin Toh Dus Baara Ladke Toh Maar Hi Deti Hogi Tu Din Mein

Tujh Jaise Chattis Phirtey Hai
Meri Wargi Aur Na Honi Ve
Tu Munda Bilkul Desi Hai
Main Katrina Toh Sohni Ve

Hai Main Fed Up Hogaya Mundaya Sun Sunke Tere Dukhdey Ve
O Mainu Kala Chashma
O Mainu Kala Kala Kala Kala
O Mainu Kala Chashma Jachda Ae, Jachda Ae Gore Mukhde
Mainu Kala Chashma Jachda Ae, Jachda Ae Gore Mukhde
Jachda Ae Gore Mukhde

Sadko Pe Chale Jab Ladko Ke Dilon Ke Mein Tu
Aag Lagadey Baby FIRE

O Mainu
O Mainu

Nakli Sa Nakhrey Tu Kare Jab Dekhe Hume
Jhoothi LIAR

O Mainu Kala Chashma
O Mainu Kala Kala Chashma
Aye Kala Chashma
O Kala Kala Kala Kala Kala

Tenu Kala Chashma Jachda Ae, Jachda Ae Gore Mukhde
Mainu Kala Chashma Jachda Ae, Jachda Ae Gore Mukhde Te.
Mainu Kala Chashma Jachda Ae, Jachda Ae Gore Mukhde

BaarBaarDekhoSongs KatrinaKaifSongs BadshahSongs NewHindiSongs

Connect with us on :
Twitter -
Instagram -
YouTube -

Vodafone Customers for Latest Callertune Click on the below link:

Music on Zee Music Company
Connect with us on :
Twitter -
Facebook -
Instagram -
YouTube -
Osiągnięcia cotygodniowego wykresu (40 najlepszych utworów)
Najwyższa pozycja na liście muzycznej utworu to #1. "Kala Chashma" na szczycie listy 40 najlepszych utworów przez 7 ogółem tygodni. Piosenka się pojawiła 24 łączne czasy w Top 10; 35 łączne czasy w Top 20; 43 łączne czasy w Top 40; Najgorsze miejsce w rankingu tego filmu to #499. "Kala Chashma" wpisane na listach przebojów 2 trendów (krajów):
Osiągnięcia miesięcznego wykresu (40 najlepszych utworów)
Najwyższa pozycja na liście muzycznej utworu to #1. "Kala Chashma" na szczycie listy 40 najpopularniejszych utworów w ciągu 2 miesięcy. Piosenka się pojawiła 7 łączne czasy w Top 10; 10 łączne czasy w Top 20; 6 łączne czasy w Top 40; Najgorsze miejsce w rankingu tego filmu to #948. "Kala Chashma" wpisane na listach przebojów 2 trendów (krajów):
Osiągnięcia wykresów dziennych (100 najlepszych utworów)
Najwyższa pozycja na liście muzycznej utworu to #1. Piosenka się pojawiła 13 łączne czasy w Top 20; 429 łączne czasy w Top 40; Najgorsze miejsce w rankingu tego filmu to #100. Znajdź wszystkie dzienne wykresy - Top 100 indyjski utworów