"Lut Gaye"
— zaśpiewane przez Jubin Nautiyal
"Lut Gaye" to utwór wykonywany w indyjski wydany w 17 luty 2021 na oficjalnym kanale wytwórni płytowej – "T-Series". Odkryj ekskluzywne informacje o "Lut Gaye". Znajdź tekst piosenki Lut Gaye, tłumaczenia i informacje o utworach. Zarobki i wartość netto są gromadzone przez sponsorów i inne źródła zgodnie z informacjami znalezionymi w Internecie. Ile razy piosenka "Lut Gaye" pojawiła się na skompilowanych listach przebojów? "Lut Gaye" to dobrze znany teledysk, który zajmował miejsca na popularnych listach przebojów, takich jak Top 100 indie Songs, Top 40 indyjski Songs i nie tylko.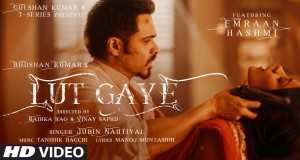 Kraj
indie
Dodany
Oryginalny tytuł utworu
Lut Gaye (Full Song) Emraan Hashmi, Yukti | Jubin N, Tanishk B, Manoj M | Bhushan K | Radhika-Vinay
Raport
[Nie związane z muzyką ] [Dodaj powiązanego wykonawcę] [Usuń połączonego wykonawcę] [Dodaj tekst] [Dodaj tłumaczenie tekstów]
Jubin Nautiyal "Lut Gaye"

Unlimited Converts to MP3

costs $18 one-time purchase
"Lut Gaye" Fakty
"Lut Gaye" osiągnął 1.3B łączną liczbę wyświetleń i 10.6M polubień w YouTube.

Piosenka została zgłoszona w 17/02/2021 i spędziła 114 tygodnie na listach przebojów.
Oryginalna nazwa teledysku to "Lut Gaye".
"Lut Gaye" zostało opublikowane na Youtube pod adresem 17/02/2021 08:30:11.
)
"Lut Gaye" Tekst, kompozytorzy, wytwórnia płytowa
Gulshan Kumar & T-Series presents Bhushan Kumar's Lut Gaye; a romantic ballad composed by Tanishk Bagchi, penned by Manoj Muntashir and sung by Jubin Nautiyal featuring Emraan Hashmi, and Yukti ;The video is directed by Radhika Rao and Vinay Sapru.

♪Stream the Full Song Here♪
JioSaavn:
Spotify:
Wynk:
Hungama:
Gaana:
Apple Music:
Amazon Prime Music:
Resso:
iTunes:
YouTube Music:

Song: Lut Gaye
Singer: Jubin Nautiyal
Music By: Tanishk Bagchi
Lyrics By Manoj Muntashir
Featuring - Emraan Hashmi
Introducing - Yukti
Programmed And Arranged - Tanishk Bagchi
Additional Voice - Altamash Faridi
Mixed And Mastered - Eric Pillai at Future Sound of Bombay
Mix Assistant Engineer - Michael Edwin Pillai
Jubin's vocal recorded By: Surajit Ghosh Mazumdar (T-Series Studio)
____
Original Song Credits
Song: Aankh Uthi Mohabbat Ne
Singer/Author/Composer: Ustad Nusrat Fateh Ali Khan

Video Credits
Story Concept, Dialogues & Poem By Radhika Rao & Vinay Sapru
Director Of Photography – ;Yadav
Production Designer - Parichit Paralkar
Choreographer - Firoz A Khan
Costume Stylist – Vibhuti Chamria
Art, Costume Styling Concept & Ideas - Radhika Rao & Vinay Sapru
Rao & Sapru Films Commercial & Operations Head - Priyanka S Jaiswal
Direction Assistants - Rajkumar Dubey, Arun Pandey, Aayansh Pandey
Casting Director - Nihal Khan
Company Make Up - Afsar Khan
Hair Stylist – Sunayana Subramaniam
Emraan Hashmi Make Up –Ram Shinde, Sushant Shinde
Emraan Hashmi Hair Stylist – Arif Shaikh (Hakim's Alim)
Offline Editor - Abhishek Kumar Singh
Promos By Rao & Sapru Films
Production Controller – Prakash Gadhari, Manpreet Sandhu
Direction Intern - Himanshu Gehlot
Also Starring – Imran Ahmad, Bhavya Shinde, Swapnil Dhondse, Naeem Khan
Making & Stills - Brijesh Singh
Location Manager - Pratik Sunil Bhor
Talent Agency For Emraan Hashmi – Khatau Media
Mix & Mastered By Eric Pillai (Future Sound Of Bombay)
President Marketing, Media & Publishing: Vinod Bhanushali
President Digital & Legal: Neeraj Kalyan
Senior Vice President Films: Shiv Chanana
Music Team: Raj Chanana, Shivam Chanana, Sonal Chawla, Sonu Srivastava, Vivin Sachdeva
Marketing Team: Bhavesh Bhanushali, Pooja Vora, Rajendram Akula, Shivam Chanana
Pr Team : Payal Nair, Alok Srivastava
Promotions Team: Mita Choudhary, Aishwarya Shetty, Priyanka Vyas, Naren Tomar, Rajesh Attri, Alok Kumar Shukla
Digital Team: Varun Arora, Juhi Singh, Akanksha Chaudhary, Garishma Gandhi, Prashant Shetty, Andrew D'souza, Sana Shaikh
Post Production (T-Series): Anil Shinde, Rishi Ram Neupane
Tseries Recording Studio – Surajit Ghosh Mazumdar
Jewelry Sponsored by Golecha's Jewels
Art Assistant – Aneri Shah, Malieka Tak, Anandita Paul, Kamya Satdev
Choreographer Assistant – Wahid Thokan, Anvi Chitalia, Amin Shaikh
Dop Assistants – Imran Bandi, Jayakumar S
Casting Assistant – Mayurkumar Nyk, Sagar Soni
Costume Assistant For All Other Cast – Nikita Suresh Kanchan, Niyati Jadav
Location Manager Assistant – Vibhav Bhour
Rao & Sapru – Production Assistant Narendra Dwevidi & Bhanupratap Singh
Emraan's Boy – Nawal Singh
Post Production Studio & Colorist - Image Devices (I) ;Ltd.
Special Thanks To Aalim Hakim
Video Produced By Rao & Sapru Films ; ;

DISCLAIMER
ALL CHARACTERS AND INCIDENTS PORTRAYED AND THE NAMES USED IN THIS SONG ARE FICTITIOUS AND ANY RESEMBLANCE TO REALITY IS PURELY CO-INCIDENTAL ANY SIMILARITY OR RESEMBLANCE TO THE NAME, CHARACTERS OR HISTORY OF ANY PERSON (LIVING OR DEAD), IS ENTIRELY AND PURELY CO-INCIDENTAL AND ;
NEITHER THE CONTENT OF THIS SONG, NOR THE PRODUCER, THE DIRECTOR, THE ARTIST OR ANY OTHER PERSON ASSOCIATED WITH THIS SONG INTEND TO OUTRAGE, INSULT, WOUND, OFFEND OF HURT ANY RELIGION OR RELIGION SENTIMENTS BELIEFS OR FEELINGS OF ANY PERSON(S), COMMUNITY OR CLASS OF PERSON(S) NOR DO THEY INTEND TO ;DEFAME OR SLANDER ANY PLACE, REGION, COUNTRY, COMMUNITY, PERSON(S) OR CLASS OF PERSON(S) IN ANYWAY.

Enjoy & stay connected with us!
???? Subscribe to T-Series:
???? Like us on Facebook:
???? Follow us on Twitter:
???? Follow us on Instagram:
Osiągnięcia cotygodniowego wykresu (40 najlepszych utworów)
Najwyższa pozycja na liście muzycznej utworu to #1. "Lut Gaye" na szczycie listy 40 najlepszych utworów przez 14 ogółem tygodni. Piosenka się pojawiła 40 łączne czasy w Top 10; 26 łączne czasy w Top 20; 24 łączne czasy w Top 40; Najgorsze miejsce w rankingu tego filmu to #481. "Lut Gaye" wpisane na listach przebojów 2 trendów (krajów):
Osiągnięcia miesięcznego wykresu (40 najlepszych utworów)
Najwyższa pozycja na liście muzycznej utworu to #1. "Lut Gaye" na szczycie listy 40 najpopularniejszych utworów w ciągu 5 miesięcy. Piosenka się pojawiła 9 łączne czasy w Top 10; 8 łączne czasy w Top 20; 8 łączne czasy w Top 40; Najgorsze miejsce w rankingu tego filmu to #959. "Lut Gaye" wpisane na listach przebojów 2 trendów (krajów):
Osiągnięcia wykresów dziennych (100 najlepszych utworów)
Najwyższa pozycja na liście muzycznej utworu to #1. "Lut Gaye" na szczycie listy 100 najlepszych utworów przez 77 łącznie dni. Piosenka się pojawiła 271 łączne czasy w Top 10; 157 łączne czasy w Top 20; 742 łączne czasy w Top 40; Najgorsze miejsce w rankingu tego filmu to #100. Znajdź wszystkie dzienne wykresy - Top 100 indyjski utworów